Stumble Guys is the latest hit in the mobile gaming industry, a free adventure game, heavily inspired by Fall Guys, is a world where fun has no limits.
But, as is common in free-to-play games, there are some items that require money to obtain, such as gems and skins. This is how the developer supports the game.
Did you know that there is a method by which you don't have to spend money to get the skins and emotes you want in the game. So let's find out together how to earn free gems in Stumble Guys and dive into this exciting journey!
How Stumble Guys works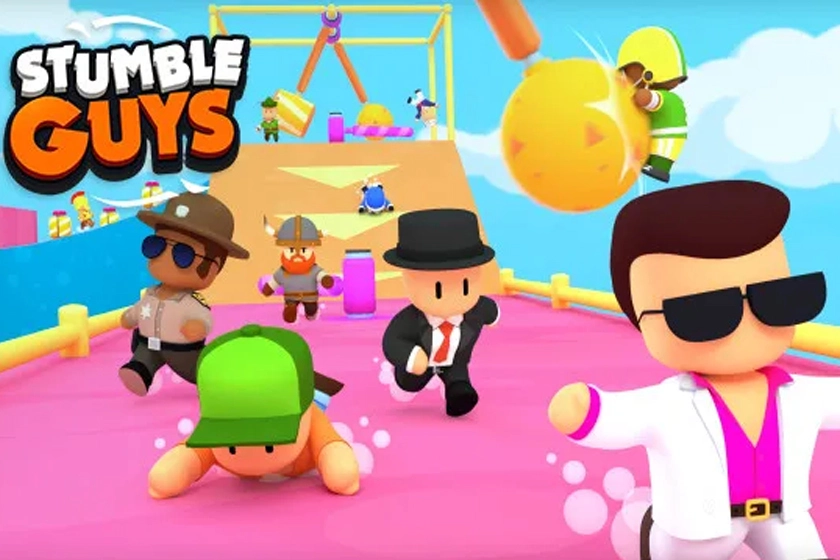 The game has several game modes where you can compete against other players or even your friends. In other words, it is a 32-player Battle Royale, where you go through different maps, with increasing difficulty.
Many consider this a Race Royale, due to the fact that all maps have a point where players start and where they need to get to. You can get even more fun out of this game with the modified version for Android, where the possibilities are even greater.
With this special version, you will have access to exclusive unlocked skins and infinite gems to make the game even more fun. Stumble Guys is an amazing game with exciting challenges and engaging maps that will keep you hooked from start to finish.
What if I told you that there is a totally surefire way on how to earn Stumble Guys gems, Stumble Tokens and Skins for free without spending a dime? Isn't that amazing?
How to Get Free Stumble Guys Gems?
In Stumble Guys, there are several legitimate strategies for earning gems without compromising the security of your account. These methods involve actions within the game itself, leaving aside the need to use external applications or means that exploit flaws. Here are some ways to earn gems in Stumble Guys, whether on PC, Android or iPhone.
Method 1: How to Get Free Gems with Stumble Pass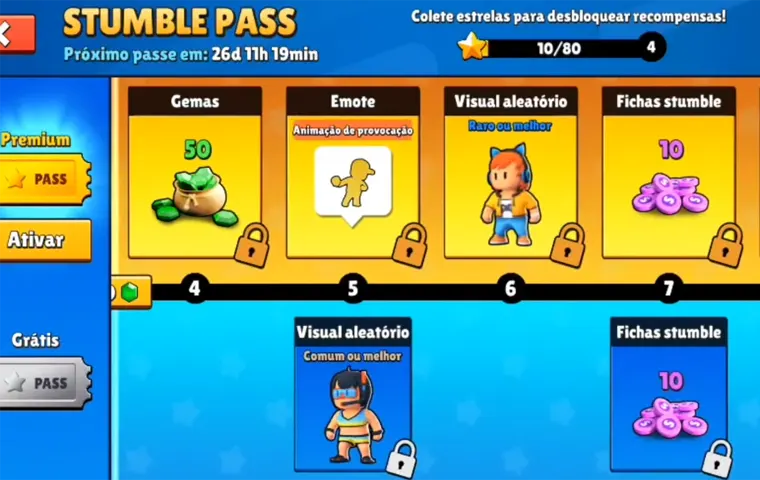 The Stumble Guys Elite Pass, known as the Stumble Pass, has a free version and a paid version. Although the paid version offers fans more options, such as rare skins and exclusive dances, the free version already allows you to unlock your first 150 gems while having fun and 30 Tokens without having to spend too much.
In the case of the Paid Pass, priced at 1200 gems, players can expect a return of 150 gems from the free pass and 400 gems from the paid pass, giving a total of 550 gems. In addition, the paid pass also gives each player 70 tokens, which together with the 30 from the free version, gives a total of 100 Stumble tokens.
However, it's important to remember that the paid pass has extra rewards, such as limited edition dances and special skins, which makes it superior to the free pass.
Best Way to Complete the Stumble Pass
Finishing the Stumble Guys Pass is an easy task - all you have to do is play. The more victories you achieve, the faster you'll level up in the pass. Victories increase the level of the pass, but it's a challenge to win first place in a match with 31 different players.
Playing a little every day will ensure that you get all the free rewards before the season ends. What's more, with the gems you earn in the daily free spins, you can get enough to buy your next pass.
How to Win Gems in the Stumble Guys Lucky Spin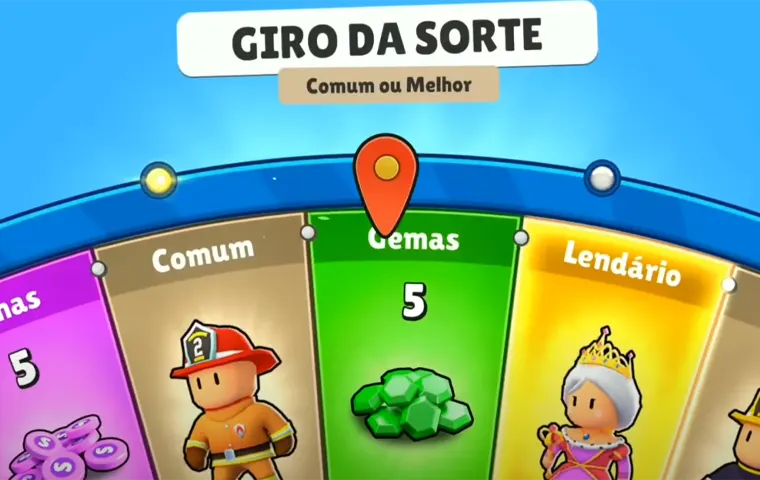 When you start the game, you can access the Stumble Guys Roulette, where you can get daily skins, gems and even free tokens. Simply enter the Free Rewards option and choose the Lucky Roulette. Another way to get there is by going to the Shop and navigating to the Free Rewards section.
First of all, you're entitled to a belt of spins every day, one of which is free, after which you'll have to watch ads to unlock another 4 spins. However, you can increase the number of spins by buying gems in the game. For example, if you buy the beginner's pack, you can get one spin completely free of charge and, in addition to 1400 gems, your game is ad-free.
Roulette is undoubtedly a good way to get gems and skins. Although there aren't many of them, it's still a great source of gems for those looking for totally free methods. The number of gems can vary from 10 to 15. If you manage to pick up repeated skins, they are automatically transformed into stumble tokens, the amount of which can vary depending on the exclusivity of your skin.
Method 2: Apps to Get Free Gems on Stumble Guys
Another way to earn gems in Stumble Guys is through apps that allow you to obtain balances and then exchange them for gems in the game. What's more, you don't have to worry about bans or any kind of punishment for your account. It's a unique and safe chance to enjoy all the advantages of the game for free with the help of a few apps!
We have therefore selected two apps to help you accumulate money to acquire coins and points in the game. However, unlike other apps that charge you to use them, the apps we're going to mention are effective and best of all, they're available for both Android and iOS. Check out the list we've prepared for you!
Application 1: CashApp Rewards
To get balance and unlock all skins in Stumble Guys, the first recommended application is CashApp. With this app, you will have the opportunity to find out how to earn gems on Stumble Guys without spending a dime. Download now the correct app below and avoid confusion with some similar name:
If you're planning to use it on an iOS device, check out the best Android emulators to download to your PC. The application mentioned is exclusive for Androidwhich means it can't run on iPhones.
Step one: When you open the application, choose the best way to accumulate balance according to your personal preferences.
Next: By performing the activities in the app, you will receive credits as a reward. The accumulated credits can be redeemed in dollars.
Finally: Make sure you keep track of progress and reach the minimum amount needed for withdrawal.
At CashApp, you will find many ways to earn gems at Stumble Guys, such as taking surveys, playing games or watching videos. Choose the option that you like or that is less tedious, so you can accumulate balance in a more fun way.
Application 2: Quize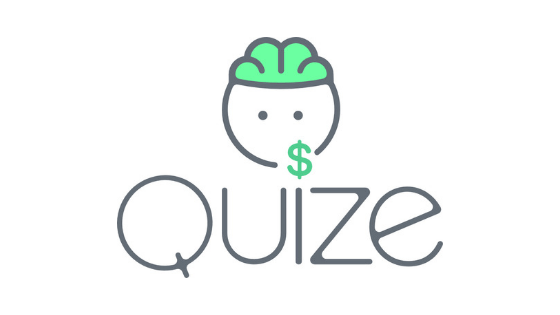 Looking for a fun and exciting way to earn gems on Stumble Guys? How about testing your knowledge with the Quize app? With it, you can test your knowledge in questions and answers and accumulate balance in a challenging and engaging way.
Navigation within the app is easy and intuitive, making the process of accumulating balance and making withdrawals simple. To make things even easier, we've provided download links to the two major app stores by clicking the button below!
Start your journey by answering questions and accumulating balance after creating your account. Besides being a great way to earn money, this application provides fun and learning!
If you're looking for a way to earn gems in Stumble Guys, unlocked skins and emotes natively in the game, there's an option!
Application 3: ClipClaps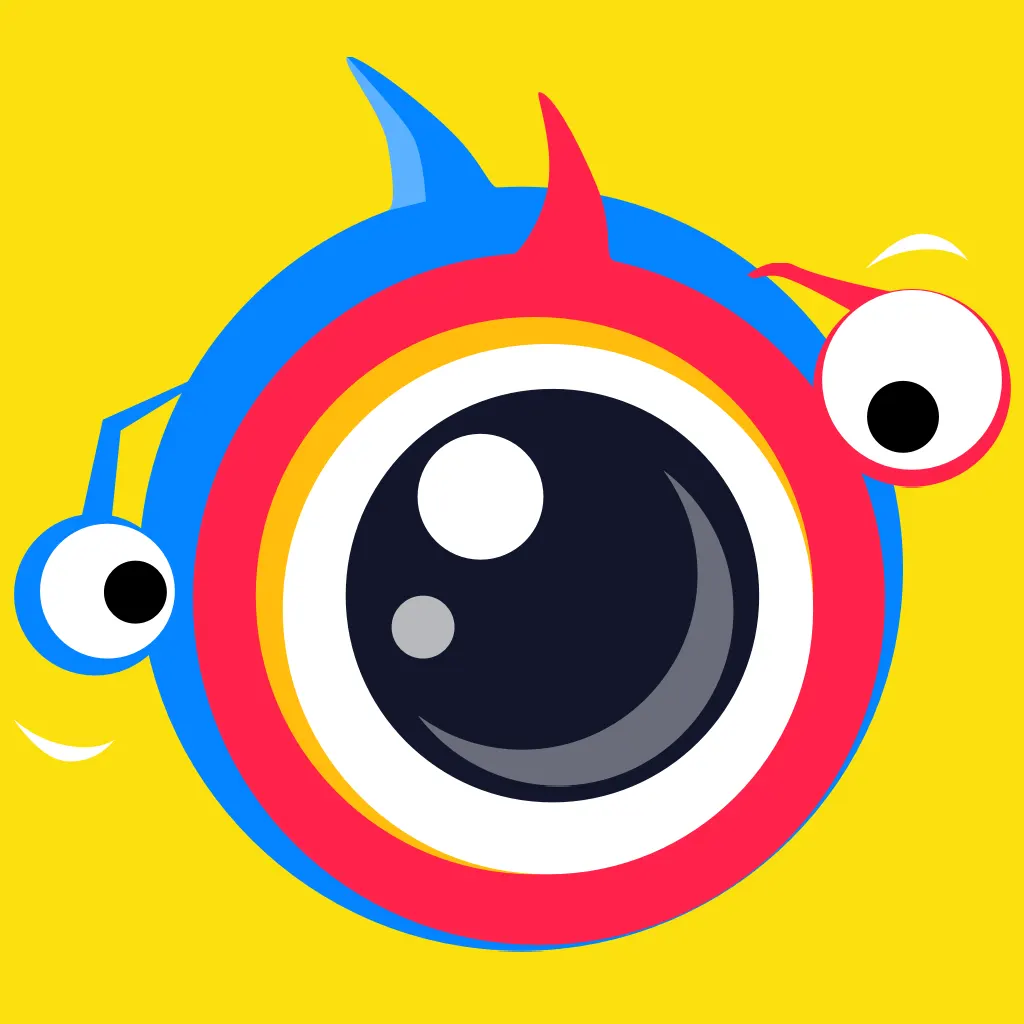 For those who have never heard of it, the ClipClaps is a platform where you can create your own videos and your community. However, it is also possible to earn coins within the app.
The easiest way to earn coins is by watching videos, inviting friends, or performing small tasks on a daily basis. In addition, it has a daily bonus system for its users.
Every 100,000 ClapCoins is equivalent to one dollar, which is the minimum amount you need to make your first withdrawal. We'll leave you with the app store to download:
Concluding Remarks
I hope you enjoyed the content of this article, in which we present valuable tips on how to earn gems on Stumble Guys the right way. The goal of the portal Rede Ardente The purpose of this article is to provide the reader with factual information about modified applications. It explains what they are and the potential dangers associated with their use.
We do not recommend the use of modified applications, as they may be considered piracy and result in damage to your device. We cannot be held responsible for any damage that may occur as a result of their use. If you have any questions or feel something is missing, please leave your comments below.
Also read: