Have you ever thought about playing one of the most iconic games of the PlayStation saga on your smartphone? Well, today you got to play the classic GTA San Andreas on mobile.
If you're not from the PlayStation II era, you may never have played one of the more classic versions of the GTA line (which, incidentally, has been around since the PlayStation I), but you've certainly seen some reference to it on the internet.
Of course, the graphics are totally inferior, but CJ's incredible story makes the game desirable for any gamer. And for those who played in their childhood or adolescence, well, the feeling of nostalgia will be indescribable.
GTA San Andreas on Mobile: Get to Know the Game
Before we talk about how to play GTA San Andreas on MobileHow about knowing a little more about this franchise?
The GTA (which stands for Grand Theft Auto) is produced by Rockstar Games and together with Rockstar North they released, in 2004, the San Andreas version - which is highly praised to this day.
In the same year the game was developed for computers with Windows and even the competitor, which is xBox.
The success of the game was so great that since its release, which is now 17 years old, 27.5 million units have been sold (not counting all the pirated versions that were running around the world).
Grand Theft Auto
One of the most consolidated franchises in the world of gamersGTA started in 1997, being developed for Playstation I, Windows and Game Boy Color. The first version was not, in fact, a great success, but the sequels of the game really convinced and excited the public.
Without a doubt, the evolution of Grand Theft Auto was growing, where each version appeared with more features and fun. The latest GTA available at the time of this article is GTA V, which is considered one of the most interesting of the franchise as well.
A Rockstar Games has already announced that it is working on GTA VI, which is being highly anticipated by the public. Now that you know a little more about this amazing and iconic game franchise, let's get to the main subject: how to play GTA San Andreas on mobile.
How to Download GTA San Andreas for Mobile
The first step to achieve GTA San Andreas on mobile is, of course, by performing the download in your smartphone.
This is done directly in your cell phone's application store, which can be the App Store in the case of devices with an iOS system (such as iPhones) or the traditional Play Store for devices that use the Android system.
The fact that you download directly from the app store - and of course it's Rockstar Games' own version - will rid you of any viruses, so you can rest assured that the downloads.
How much does it cost?
The sad news is that GTA San Andreas on mobile is paid, costing almost R$20 reais in the Play Store. To be able to buy it you must have Google Play credit.
However, if you keep an eye on promotions you might find an interesting discount on the game.
For iPhones and the iOS system, you can download the GTA San Andreas on mobile without paying anything, however, there are some limitations of the content. The full version can be purchased for as little as R$16.
This version free It ends up being interesting, because if you have never played the game, you can do a "test drive" to see if it is really worth the investment.
Storage
One point you should pay attention to is the storage issue, because GTA San Andreas, despite its inferior graphics, is a very robust game and needs space.
To install and be able to play, you need, on average, 2.5 GB of free memory on your cell phone.
It is interesting that you evaluate how much memory you have left, because if you have a little more than 2.5 GB the game will download and install, but you will be left with very little space, which can hinder the usability of the phone.
Is it worth downloading?
GTA San Andreas is paid and still requires a lot of storage space. Is it worth it? Even with these two drawbacks, the game is really fantastic, robust and Rockstar has done a great job on the mobile version.
The quality of the game is really good, ideal for anyone to kill the nostalgia, anywhere in the world! Now, if you miss playing on a larger screen and even on a controller, you also have the option to download GTA San Andreas by Steama gaming platform for computers.
The value of the game is very similar to GTA San Andreas on mobileIt is around R$20.
Let's take the shortcuts!
If you are a fan of GTA San Andreas, you surely know that the game has many shortcuts for those who want to make a nice mess in that scenario! Many people play clean and without any code, but one or another shortcut can be quite interesting as well.
The following is a list of codes that you can use while playing GTA San Andreas on mobile:
GONPXWRWith this code you will not take any damage, i.e., the JW will stay alive, even if he is beaten or shot.
GKPNMQhere you will be able to walk on water - imagine enjoying a beautiful beach by the sea?!
FLYINGTOSTUNT: here the game brings the aerobatic airplane
LXGIWYL: this is a code for the weapons package, which includes a baseball bat, AK-47, 9mm pistol and a rocket launcher
FULLCLIP: you will have infinite ammunition
AMOMHRER: the game features Tanque, an extremely robust and almost invincible vehicle
SPEEDFREAK: all cars will get nitro, i.e. more speed
RIPAZHAHave you ever imagined flying cars in GTA? Well, with this code you will achieve this
KVGYZQK: you will have more weight and also more musculature
ROCKETMAN: the game gives you a rocket pack.
Anyway, these are some codes from GTA San Andreas on mobile that you can use to have a lot of fun!
Cell Phone vs. PC
I wonder which is better? Buying GTA for your cell phone or betting on the PC version? Well, that will depend a lot on your goal with the game. The computer will give you better vision and gameplay, however, you will always be limited to the location, i.e. you can only play when you are with the computer.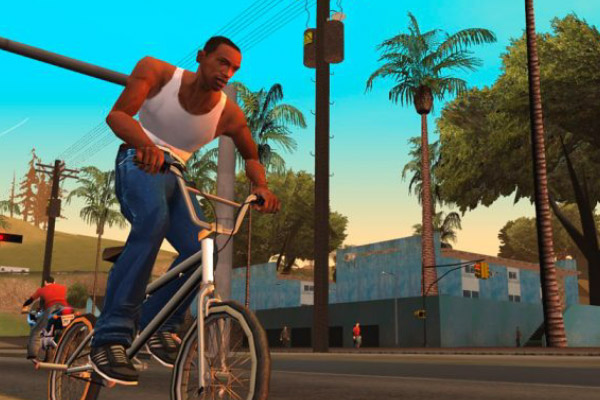 In contrast, playing GTA San Andreas on mobile is much more versatile and you can have fun anywhere, but of course, you will not have the ease of play as on the computer. In any case, Rockstar Games has designed the controls to be very easy on the cell phone, so as not to hinder its usability so much.
Anyway, if you are a fan of GTA and spent hours and hours of your childhood or adolescence playing San Andreas, be sure to have this version in the palm of your hand. So, what are you waiting for to download and play GTA San Andreas on mobile? If you have played a lot, it's time to kill the nostalgia! For those who don't know, you are missing out on one of the best versions of the GTA franchise.