Although the anime is almost ten years old, one question still lingers in the minds of fans: who would be the strongest hero or villain in Boku no Hero Academia? The anime, also known here in the West as My Hero Academia, features a large number of powerful and charismatic characters who have been winning the hearts of otaku around the world since its release in 2016.
In the following list you'll find everything you need to know about the 11 main characters of Boku no Hero Academia, from their backstories and abilities to their dreams and expectations for the future of the story. Of course, as they'll be listed from weakest to strongest, we'll also have the answer to the question everyone wants to know so much! Curious? Then let's get into it!
Ochako Uraraka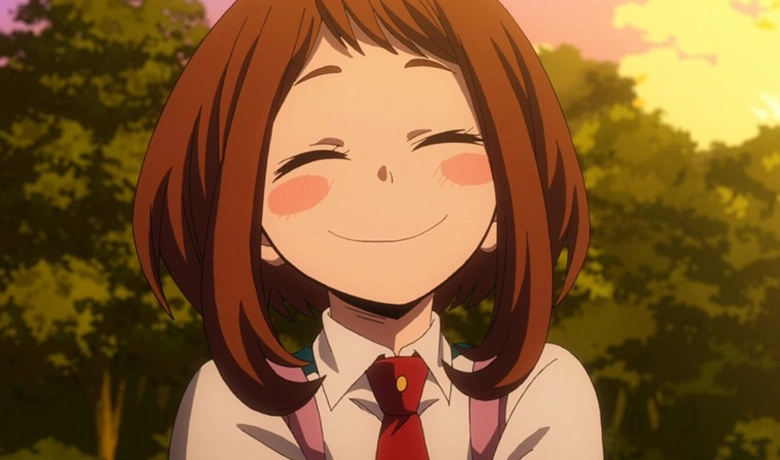 Ochako is one of the first main characters from Boku no Hero Academia to be introduced in the anime. She is a sweet, shy girl who wants to become a hero in order to help people, earn a lot of money and provide a peaceful life for her parents who are struggling financially.
She possesses the power "Zero Gravity" as an individuality which allows her to nullify the effects of gravity on solid objects of all kinds. She chose as her heroine's name Uravity, a mix between her real name (Uraraka) and the Japanese pronunciation of the word "Gravity", which means gravity.
Shoto Todoroki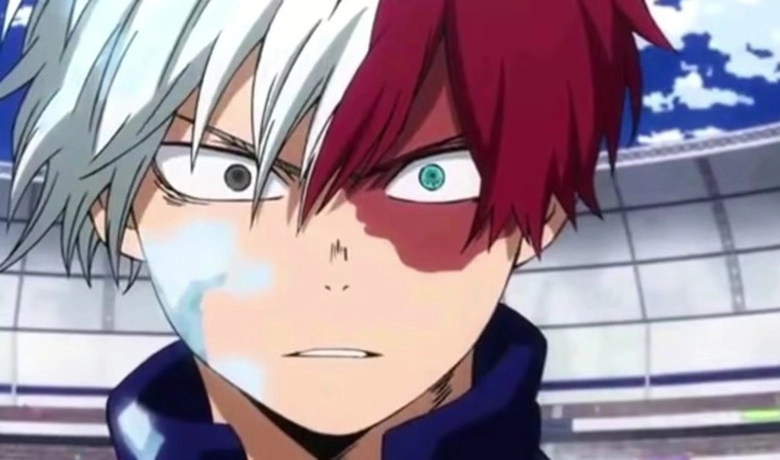 Todoroki is the son of Endeavor, the second strongest hero in the world according to history's global rankings. However, his father was never very happy about losing the top spot to All Might and tried to transfer the duty of taking his rival's belt to his sons, treating them as a kind of experiment.
As a result, Shoto witnessed several scenes of domestic violence on his part and developed anger at his attitudes. The boy inherited the abilities of both his parents, being able to control both ice and fire, but at first he refused to use fire because he associated it with Endeavor. After his fight against Izuku Midoriya, Shoto began to grow out of his grudge and became a little more sociable among the main characters in Boku no Hero Academia.
Dabi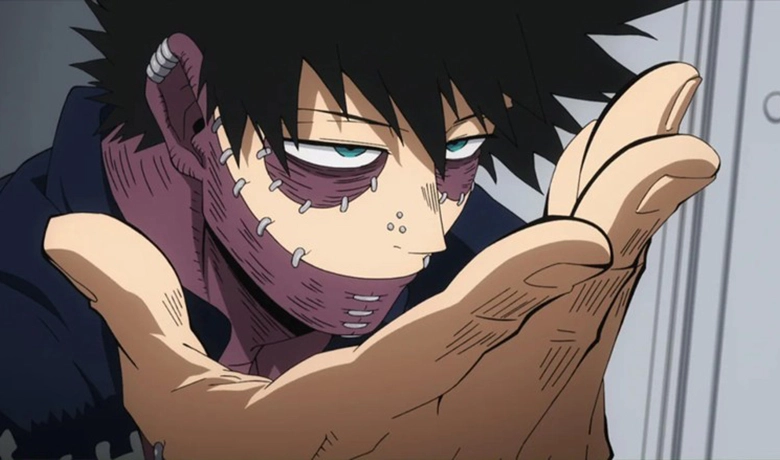 Despite not always being the central antagonist of certain anime arcs, Dabi has been present in almost all of them, right from the start of the anime, making him one of the main characters in Boku no Hero. The boy can produce blue flames and spread them through his body with a very high destructive potential.
His past has been shrouded in mystery for a long time. Only recently was it revealed in the anime that he is in fact Touya Todoroki, Shoto's older brother who ended up destroying himself in an attempt to meet the high expectations of his father, Endeavor. After that, he joined the League of Villains and has always been one of the group's main bets against the heroes of the plot.
Himiko Toga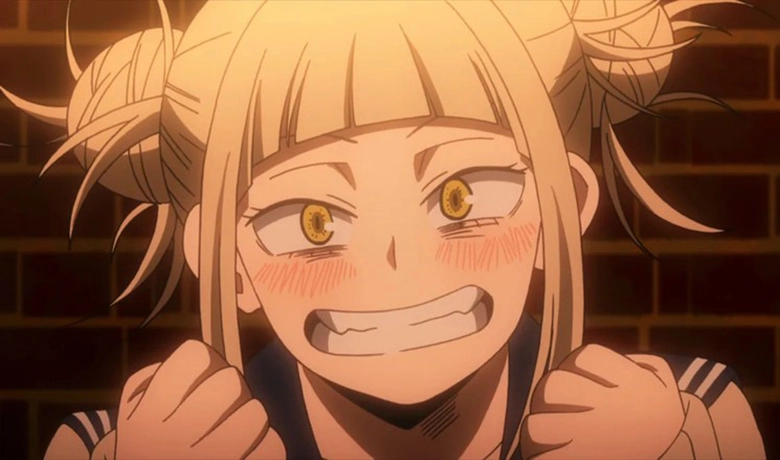 Of all the characters in Boku no Hero Academia, Toga can be considered one of the most charismatic and also psychotic. She belongs to the League of Villains, just like Dabi, but is more interested in the bloodshed proposed by the ideals that attracted her to the group than in them themselves.
Her ability makes her capable of transforming into anyone she wants, as long as she can ingest a considerable amount of that person's blood. She is also able to copy her target's individuality, which makes her quite powerful among the main characters in Boku no Hero Academia. Her abilities make her an ideal choice for infiltration and espionage missions.
Eri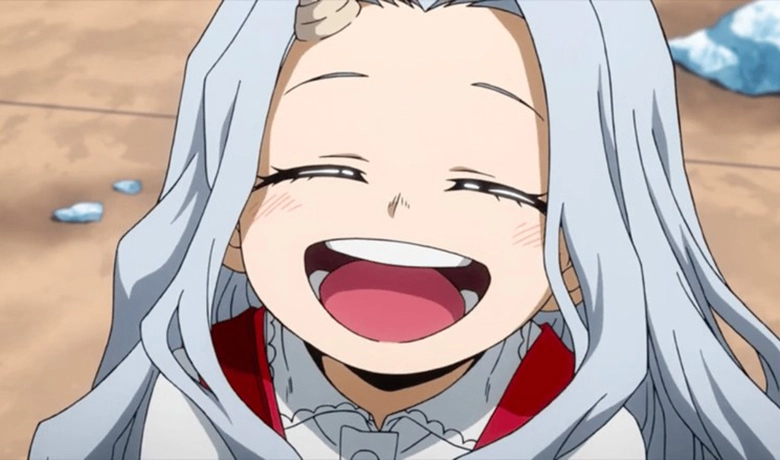 Eri is potentially one of the strongest of the main characters in Boku no Hero Academia. The little girl has the power to manipulate people's biological timelines, even managing to erase their existence.
She was under the power of antagonists and was key to Chisaki's plans to create a drug that would destroy individuality. However, Eri was rescued by Midoriya and the other main characters in Boku no Hero Academia and is now under the care of Aizawa, a professor at the U.A. who has become her tutor.
Mirio Togata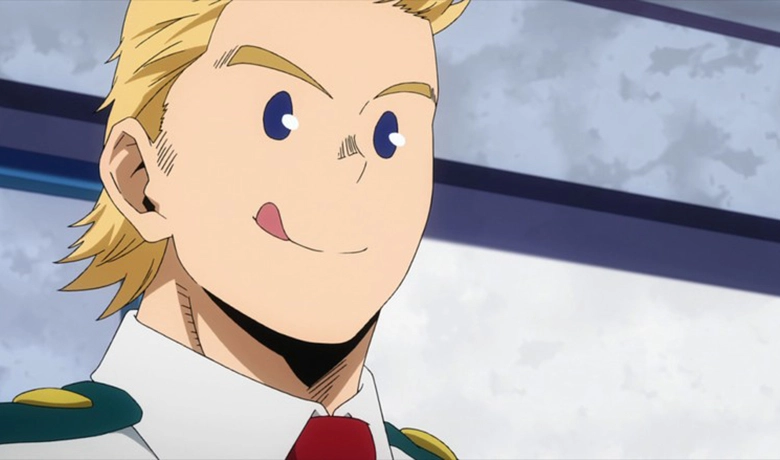 Before Midoriya appeared in All Might's life, Mirio was the main candidate to inherit the hero's One for All power. He is part of the Big Three, the most promising trio of students in the entire U.A., and the most likely to become professional heroes after graduating from school.
He's a cheerful and determined boy who puts a lot of effort into his training and is undoubtedly one of the main characters in Boku no Hero. His ability wasn't great at first, but his hard work has allowed him to develop it well, surpassing even heroes who were already considered professionals in terms of power. He uses the codename Lemillion and, with his individuality, is able to reduce body density and cross solid surfaces.
Katsuki Bakugo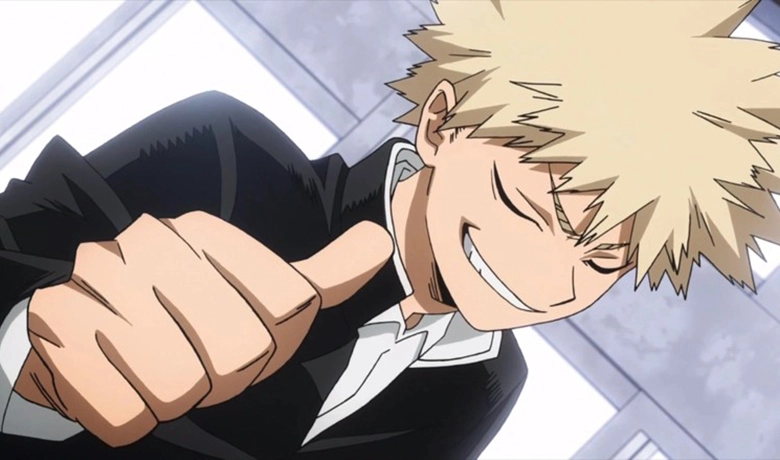 Katsuki Bakugo has been the main rival of protagonist Izuku Midoriya since childhood and is also one of the main characters in Boku no Hero Academia. Because of his strong personality and promising skills, Bakugo was always praised as a child, which led to an inflated ego during his teenage years, giving him a totally arrogant air and even leading him to bully Midoriya for his lack of individuality.
He has a lot of admiration for All Might, just like Izuku and, albeit in a twisted way, seeks to remain true to his ideals of justice and become a hero capable of winning all his battles, just like his idol. His ability allows him to turn his sweat into nitroglycerin, concentrating it in his hands to cause explosions. Because of this, he adopted the codename Great Explosion: Murder God Dynamight, as big as his ego.
Shigaraki Tomura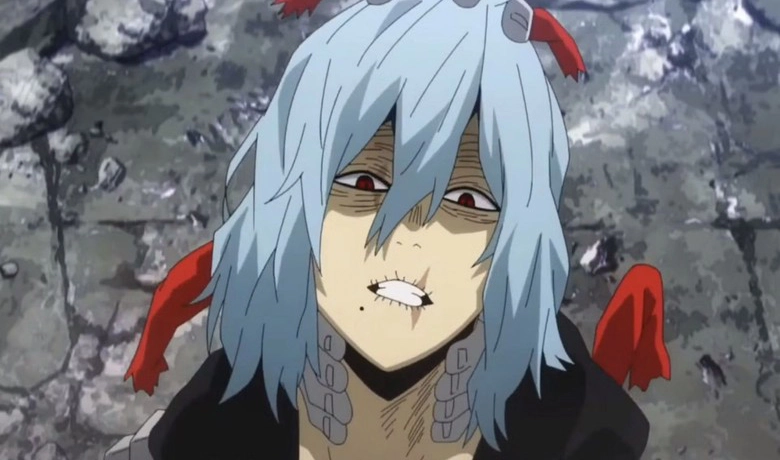 Shigaraki, whose real name is Tenko Shimura, is one of the main antagonists in the series and had the worst possible childhood. He is the grandson of All Might's master, Nana Shimura, and admired heroes when he was very young, an attitude that was frowned upon by his father who resented these types of people for abandoning their families in order to save others.
When his ability, which allows him to disintegrate things and people with the touch of his hands, manifested itself, he ended up accidentally murdering his family and, in a panic, tried to get help from his father who tried to defend himself against him with violence. Then the boy ended up killing him not so accidentally.
Shigaraki is the successor to All for One and has a difficult and immature personality, but he is quite intelligent. His main goal in the anime is to eliminate All Might so that he can destroy the one people hold up as a symbol of peace and establish chaos. One of the scariest main characters in Boku no Hero!
All for One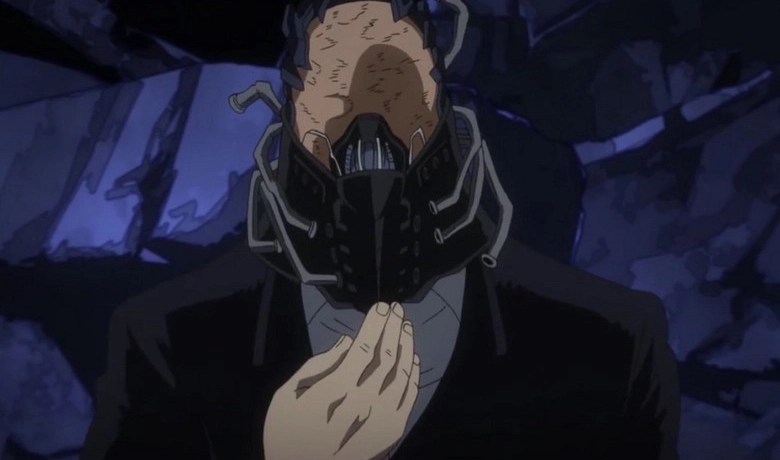 This is the feared main villain of the story, being the mentor of Shigaraki Tomura. He is the mastermind behind the League of Villains and the official rival of all One for All users. His ability works as the exact opposite of the protagonist's individuality: he steals powers from other people and allows them to be combined with others he has already stolen, leaving the victim with no power at all.
He has no scruples and shows no remorse for all the crimes he has committed, claiming to do everything he does with the aim of bringing peace to the world. He is so powerful that he has already defeated the fourth most powerful hero in the world with ease and seriously injured All Might in combat, making him number one among the strongest, putting fear into all the other main characters in Boku no Hero Academia who stand in his way.
All Might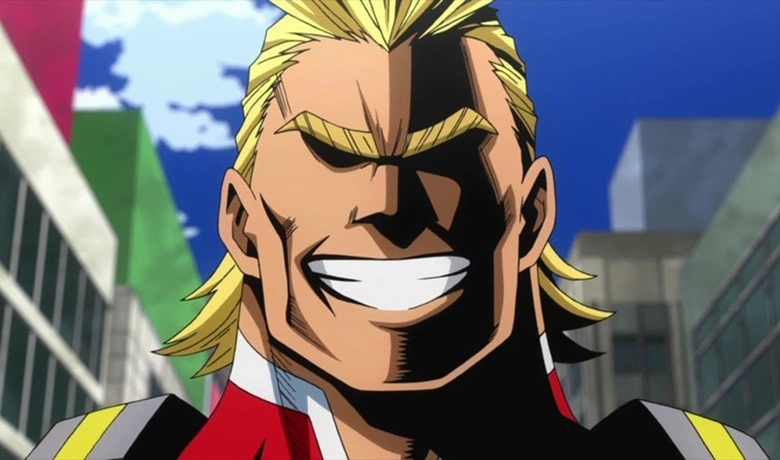 The famous Symbol of Peace, All Might is the codename of the world's number one hero, whose original identity is Toshinori Yagi. Like Midoriya, Toshinori was born without any individuality, but received the power of One for All from his master Nana Shimura to fulfill his dream of becoming a professional hero.
He is the eighth user of One for All and can no longer be the hero he used to be after suffering a serious injury in an All for One confrontation in the past. Even so, he avoids showing weakness in public, always displaying his hero form with a confident smile on his lips so that people's image of the Symbol of Peace isn't affected, making him essential among the main characters in Boku no Hero Academia.
His real appearance is thin, small and generally a little more negative. Even so, he decided to transfer his power, the One for All, to the young Midoriya when he saw the fiber he possessed. He is currently a professor of Fundamental Studies at the U.A. and teaches many of the other main characters in Boku no Hero Academia how to become professional heroes in the future.
Izuku Midoriya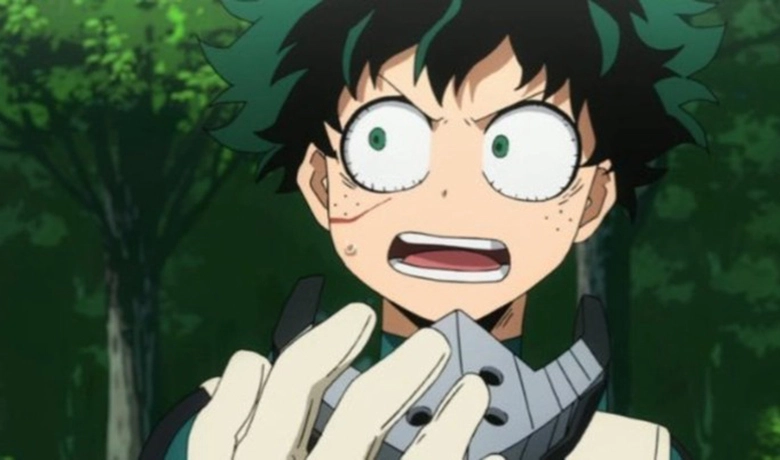 The protagonist Izuku Midoriya has the potential to be the strongest of all the main characters in Boku no Hero Academia. Despite being born without any individuality, he always dreamed of becoming a hero to help people like his idol All Might and, even facing adversity, he never gave up on that dream.
When his much-loved idol sees him risking his life to save others even though he has no powers, he recognizes his worth and determination, judging him worthy of receiving the One for All, an ability that allows the bearer to pass on his powers as long as he shares his DNA with someone else. After arduous training so that his body could withstand the strength he would receive, Midoriya ingests strands of All Might's hair and officially becomes his pupil.
In the U.A., Izuku adopts the codename Deku, a derogatory nickname that Bakugo, another of Boku no Hero's main characters, had given him as a child, which is an abbreviation of the Japanese word "Dekunobou".
But Uraraka, another of Boku no Hero Academia's main characters, ended up giving the nickname a new meaning. She tells the boy that his "Deku" could mean that he could do anything, an allusion to the term "dekiru", a verb that in Japanese indicates the ability to do something. And that's how Midoriya chooses his hero name.
Deku is an extremely analytical and intelligent boy, capable of devising incredible strategies based on his vast knowledge of other people's powers. With the One for All, he has inherited incredible strength and is also able to use the abilities of previous users such as the Black Whip, Float, Smoke Screen, the extra energy provided by Fa Jin and the danger sensor and, more recently, Gearshift, an individuality originally from the second One for All user.
Why are these the strongest main characters in Boku no Hero Academia?
Of course, there are many other interesting characters who make up the work and can also be considered the main characters of Boku no Hero Academia. The other students at the U.A. such as Eijiro Kirishima, Teniya Iida, Denki Kaminari and others, as well as members of the League of Villains and Professional Heroes, are examples of this, but we've chosen to list the strongest among them here according to their potential and relevance to the plot.
If you think there are any characters missing from the list that you wanted to see, let us know in the comments! But now, how about checking out the twelve Boku no Hero Academia villains ranked? We bet you'll like what you see!