Hello players!
Today we are going to show you some skins and information about the Elite Pass for July, so that you can stay informed on everything that this amazing pass will bring to Free Fire.
What is Elite Pass and how does it work?
For those who do not know the Elite Pass in Free Fire is a rewards system made by Garena that has a cost of 600 diamonds but during the pre-sale has a cost of 1200 diamonds but you will receive some more exclusive items, this system works as follows: You have to do missions to receive badges in the Elite Pass and the more badges you have the more rewards you will earn being a maximum of 225 badges to unlock all rewards. The elite pass costs 600 diamonds, however, all rewards there are rare, exclusive and permanent having a total value equivalent to 10,000 diamonds!
Every month, Garena releases a new Elite Pass, and today, we're going to show you what July's Elite Pass will look like.
Elite Pass July 2020
July's elite pass will be themed around the Redemption 2.0 event, so the pass skins are displayed for players on the game's loading screen.
Pre-sale of the pass will be available as of July 28 (Sunday), so it is now available for purchase.
If the translation is unchanged the elite pass will be called "Redemption" having a link to event of the month.
This magnificent elite pass will arrive on the first day of July (Wednesday), like all the other Passes.
The main costumes for this elite pass will be "Ruins of Death", the women's costume, and "Ruins of War", the men's costume.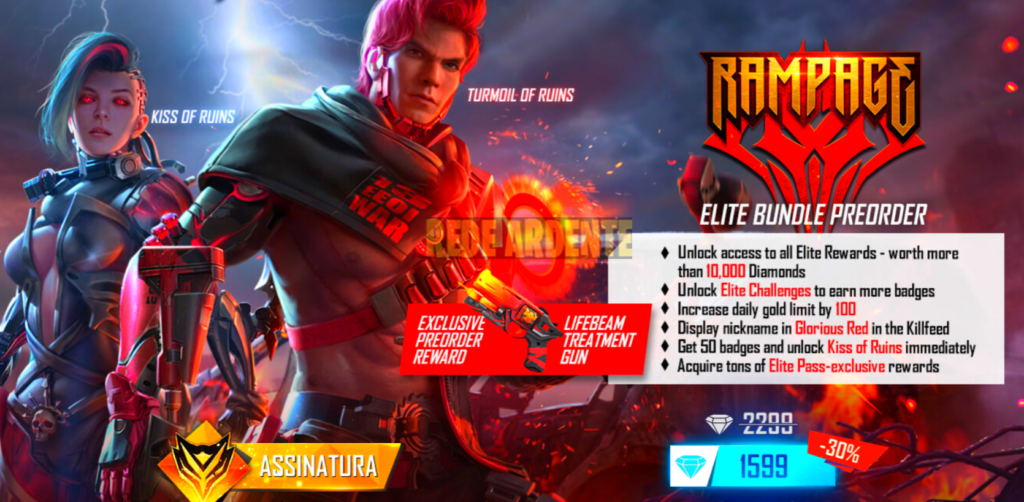 Why buy the Elite Pass Pre-Sale?
Automatic unlocking of all Elite Pass rewards;
Unlock Elite Challenges to earn more badges;
Daily gold earnings increase to 100;
Your name will appear in red when you shoot an enemy;
Get 50 badges and unlock the "Queen of the Ring Package" immediately;
Get lots of rewards exclusive to the Elite Pass;
Exclusive pre-booking reward "Lifebeam treatment Gun"
The exclusive reward from the purchase of the July elite pass pre-sale is the "Lifebeam treatment Gun". A skin for Free Fire's healing weapon.